Staying Strong in Basketball, On and Off the Court
Basketball is one of the most watched and played games on the planet.
In this feature, we're taking a look at how basketball clubs can help their players, teams and clubs to build connection and resilience for R U OK Day and beyond.
Teams are the Heart of Basketball
Basketball is the second most popular sport in the world. Most countries play basketball and over 100 countries have professional leagues or national teams!
In Australia alone, there are 20,000 basketball clubs and over 60,000 teams. From city courts to the outback, you can find people playing basketball.
These teams and their clubs are obviously very important to a large number of people. They're full of people you see regularly and hold a common interest with.
Even the Best Players Can Have Down Days
It's true that we all experience highs and lows, on and off the court.
A significant proportion of people will grapple with serious mental health challenges in their lives, including depression, anxiety and loneliness. And up to 65% of people will not seek medical help.
Perhaps before mental health becomes a serious problem, we all know times when we could have benefited from someone to talk with.
Often, support is available from the people around you.
But, how often do we really check in with each other?
Take the R U OK? Check In
We've set up a quick, easy check in for your players and teams: no login or signup is required and all data is anonymous.
Button not working? Take the R U OK? Check In here on the iyarn app.
Get Help to Spark Deep, Honest Conversation in Your Club
iyarn is an app that's been built to help people connect to themselves and others. It's an app that supports groups to develop their own skills to connect and support each other.
iyarn is well suited for players, coaches and volleyball clubs to talk about their progress and wellbeing.
How can Technology like iyarn Help?
An iyarn check-in is a catalyst for conversation and an opportunity to explore mental health specifically. iyarn allows you to:
Quickly collect data from an individual player or whole playing squad
Initiative conversations on topics that matter
Monitor data for trends over time
This data quickly builds up. It's useful for personal reflection, but the primary reason for completing this wheels is as a discussion point with trusted friends, coaches and peers.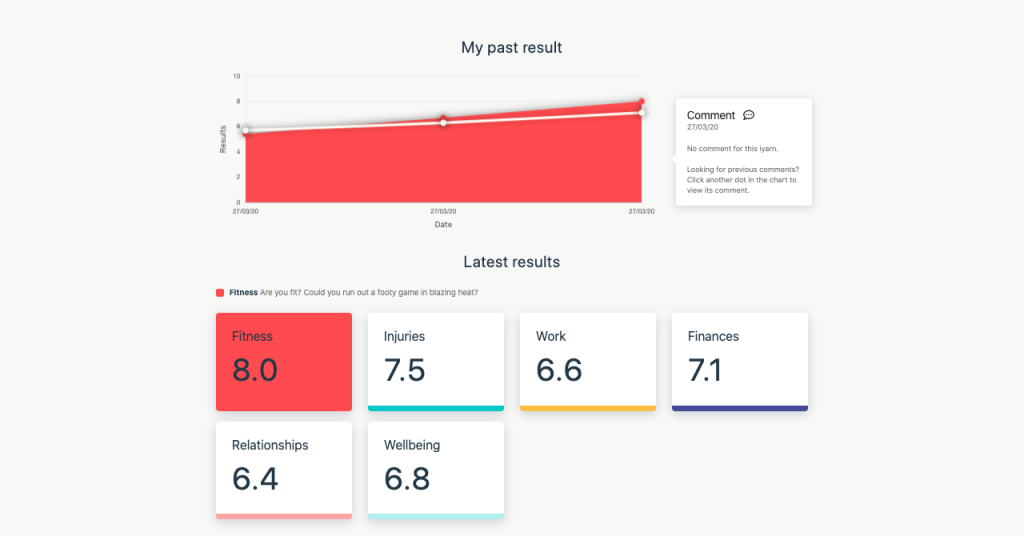 iyarn works fantastically with coach-player one-on-ones. Pair iyarn with WhatsApp or Messenger video calls, and you've got a tool for keeping engaged with your club, even in self-isolation and times away from the training track.
Tips to Make the Most of iyarn
iyarn is all about unlocking good, honest conversation between people.
In general, the tips for using iyarn as a spark for conversation in clubs are:
Talk about the positives.
If people are comfortable, talk about the negatives. Note this may take some time.
Talk about progress over time.
Talk about actionable next steps that'll help to improve ratings.