Spikes and Blocks: Promoting Mental Wellbeing in Volleyball
Volleyball is popular, diverse and incredibly social! In this feature, we're taking a look at how volleyball clubs can help their players and clubs to build connection and resilience for R U OK Day and beyond.
Volleyball is Great!
Volleyball is popular all over the world for good reasons. Volleyball is fast paced and can be played almost anywhere!
There are a wide range of game formats, and all are great for reflexes, balance, hand-eye coordination and overall fitness. As a non-contact sport, it's also a pretty good option to keep playing well after football and netball players have retired.
Volleyball is also well recognised for its social scene. Events and tournaments are huge and fun. Overall, volleyball is a sport that's open and accessible, and allows participants to find their level.
Volleyball Clubs
Volleyball clubs are the focus for almost a quarter of a million volleyball players in Australia alone.
These clubs are obviously very important to a large number of people. They're full of people you see regularly and hold a common interest with. These clubs are a huge part of our lives.
Wellbeing in a Volleyball Club
Volleyball spans a wide range of levels, from school kids through to elite olympians. While the definition of wellbeing changes depending on the level we're talking about, wellbeing generally refers the experience of health, happiness and achievement.
A player's wellbeing is impacted by their situation on and off the court, so a holistic approach is required.
Individual players, coaches, teams and support staff all have a role to play in supporting participants to establish and maintain their wellbeing. For younger players, parents will also play a critical role.
Gauging Wellbeing in a Volleyball Club
There are numerous approaches by researchers to develop measurement tools that offer the best representation of athlete wellbeing. While that is an ongoing exercise, in general, players and their teammates, their coaches and support staff, and others can reflect on the following areas to get a sense of how a participant's wellbeing is going.
General Mood
Are they happy?
Satisfaction with Training and Competition
Is the player enjoying their chosen sport? Are they highly motivated to train and compete? Are they showing signs of burnout?
Body Function and Body Image
Is the athlete satisfied with their health? Do they have a positive perception of their body image? Is the player recovering as expected from injuries or niggles?
Managing Stress and Pressures
Does the player arrive at training ready to perform, considering sleep, nutrition and focus?
Do they seem to be managing the difficulties that they face, including work, study or other pressures? And do they have a support network in place to help them manage these difficulties?
Signs of Distress
Is the player showing signs of stress, anxiousness or worry?
Life Outside Volleyball
Does the player have good relationships outside of volleyball? Are they well supported by family, friends and others?
Creating a Safe Space to Discuss Wellbeing
It's not always easy for a player to discuss their wellbeing. And its not always easy for a coach to help them.
Volleyball clubs have a role to play in supporting the wellbeing of their players by creating a safe space for these conversations to begin. There are many actions a club can take to support this kind of culture. For example:
Educate and inform your members – Help your players to understand that wellbeing is a common issue that can be managed.
Encourage two way conversation – Its an outdated stereotype that coaching is a top down, one-way process. If you're a coach or administrator, encourage feedback and dialogue with your players.
Make mental health a priority in your club – Mental health is a common challenge that has a huge overlap with wellbeing. The mindset and language of club leaders really matters.
Identify a focal point – Identify a champion or small working group within your club to lead efforts for athlete wellbeing and mental health. Support those people (and others) to receive training that fosters mental health in the club.
Support awareness campaigns – There is an increasing number of resources available to sporting clubs to support the awareness of mental health issues.
Make it normal to chat about wellbeing – Clubs and coaches have a key role understanding the day-to-day health of their athletes through questions like "How are you feeling?" and/or "How's your mental health?" Clubs can also help by ensuring players understand the nature of mental health and have a safe space to discuss mental health.
Measure wellbeing – there are many tools to measure athlete wellbeing. These range in complexity and cost… but a simple conversation is free.
Know your audience – Each generation is a little different to the one before. Gen Z prefer to communicate with methods that are quick and usually electronic. And if you want to measure wellbeing, remember that these players will probably prefer a quick rating rather than entering lengthy text.
Sporting clubs have been urged to take a particularly active role in supporting their athletes during the COVID-19 pandemic. If ever there was a time to lift your club's focus on athlete wellbeing, the time is now.
Get Help to Spark Deep, Honest Conversation in Your Club
iyarn is an app that's been built to help people connect to themselves and others. It's an app that supports groups to develop their own skills to connect and support each other.
iyarn is well suited for players, coaches and volleyball clubs to talk about their progress and wellbeing.
How can Technology like iyarn Help?
An iyarn check-in is a catalyst for conversation and an opportunity to explore mental health specifically. iyarn allows you to:
Quickly collect data from an individual player or whole playing squad
Initiative conversations on topics that matter
Monitor data for trends over time
This data quickly builds up. It's useful for personal reflection, but the primary reason for completing this wheels is as a discussion point with trusted friends, coaches and peers.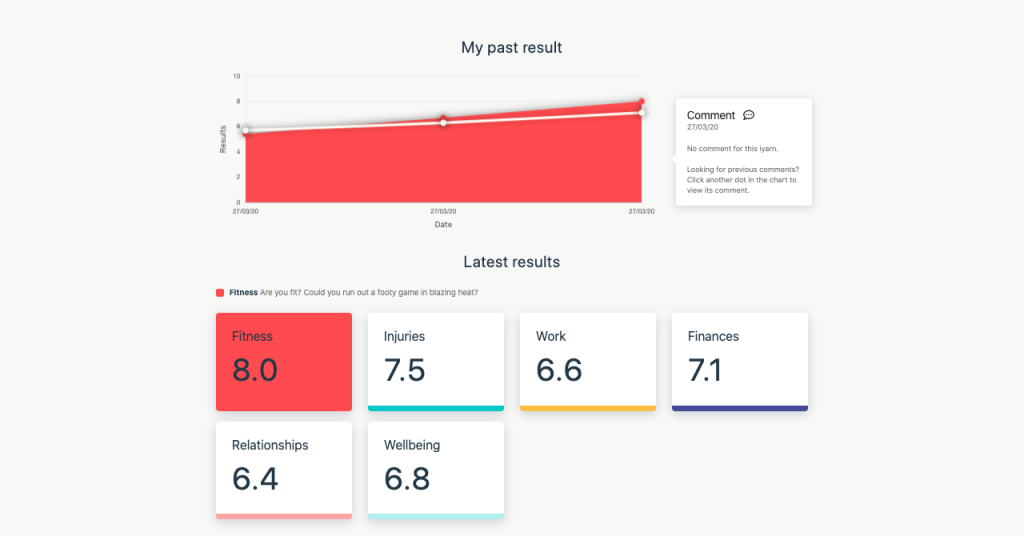 iyarn works fantastically with coach-player one-on-ones. Pair iyarn with WhatsApp or Messenger video calls, and you've got a tool for keeping engaged with your club, even in self-isolation and times away from the training track.
Tips to Make the Most of iyarn
iyarn is all about unlocking good, honest conversation between people.
In general, the tips for using iyarn as a spark for conversation in clubs are:
Talk about the positives.
If people are comfortable, talk about the negatives. Note this may take some time.
Talk about progress over time.
Talk about actionable next steps that'll help to improve ratings.
We've Set Up A Check In for You!
Together with our partners at VolleyballWA, we've set up a quick check in to gauge how you're going this R U OK? Day.
Button not working? Take the R U OK Check In by launching the iyarn app
The data collected from this wheel is entirely anonymous. There is no login and no signup required. This is just a way to start the conversation.
Feel free to take your results to start a conversation in your volleyball club. You can also adapt the ideas from this wheel to build your own check in!
Get Your Players Talking
It's easy to set up your own iyarn 'wheel' to check in on players in a club or a specific team.
If you're the first in your club, login and build a wheel by downloading the app from App Store (for iPhone) and Google Play (for Android) or use iyarn's web app if you're on a desktop. Set up a wheel in a few clicks and then share it to the people you need to check in with.
Check out our slightly longer guide to implementing iyarn in your sporting club here.
If you want help to implement the free app with your club, reach out to iyarn. We're currently accepting registrations for iyarn's Connection Workshops for the month of September.